Swap Faces on Any Photo Using AI
Create deepfakes in an instant! Swap faces effortlessly with anyone, regardless of your Photoshop skills. Simply upload your images and let the AI take care of the rest. 100% private, no images are stored.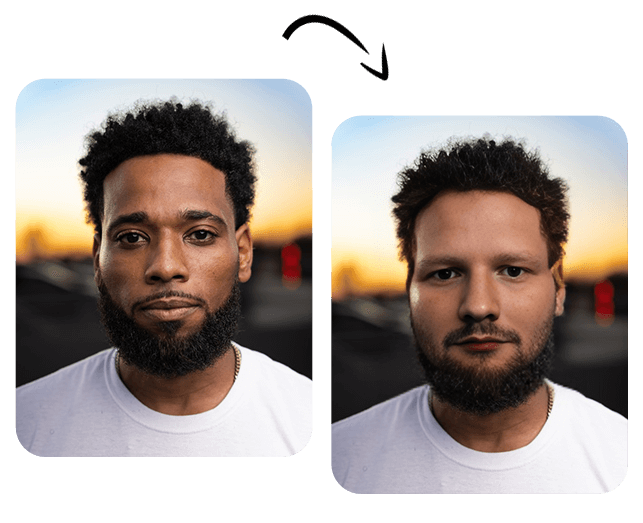 How to use Pincel AI for Instant Face Swapping
Transform your photos with a realistic face swap using Pincel AI. In just three simple steps, you can achieve professional-quality results which are scary and fun.
Upload Target Image
Begin by uploading the photo to which you want to add a new face. This will be the canvas for your deepfake transformation
Add Reference Face
Choose a reference image with the face you want to swap onto your target photo. The AI will analyze and seamlessly merge this face with the target.
Generate the Swap
Pincel will process the images and create a face swap in seconds. Once it's ready, you can download and share your transformed photo with the world.
Frequently Asked Questions
What is Pincel? Face Swap AI?
Pincel AI is an online face swap application that utilizes advanced artificial intelligence technology to create realistic deepfake photos by seamlessly blending a new face onto an existing photo - it can be any photo you upload.
How does Pincel AI work?
Pincel AI employs deep learning algorithms to analyze the facial features, expressions, and lighting conditions in both the target and reference images. It then intelligently replaces the face in the target image with the one from the reference image, ensuring a natural and realistic outcome.
Do I need to train my own AI model?
No, Pincel stands out because it only use 1 reference photo as an input for the face swap.
How long does it take to process a face swap?
The processing time mostly depends on the size of the images. In most cases, it takes about 5 seconds to generate a face swap, but it may take longer during peak usage times.
Is Pincel Face Swap AI safe to use?
We prioritize the safety and privacy of our users. We do not store any uploaded images, and your data is treated with care. Please read our privacy policy for more information.
It didn't work well. How can I improve the results?
We recommend trying another photo with better lighting and a more suitable angle. The quality of the output largely depends on the clarity and alignment of the source images. Experiment with different photos to achieve the best possible result. Additionally, ensuring that your images are well-lit, well-focused, and feature the subject facing the camera can significantly improve the quality of the final face swap