Edit your photos with AI text prompts
Discover the ultimate benefits of AI and limitless image editing online. Effortlessly transform your photos using just a brush and a text prompt within seconds.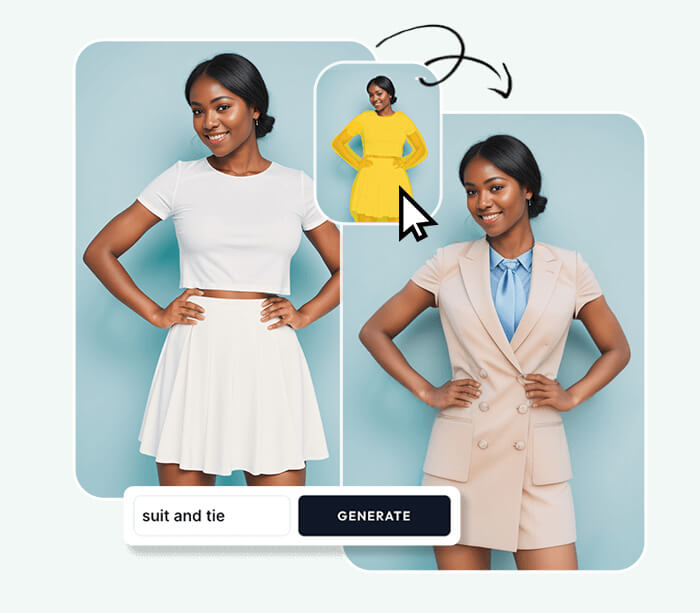 How to use Pincel AI Editor to transform your photos
What appears to be a simple brush stroke is actually powered by advanced deep learning algorithms, allowing you to effortlessly create stunning and seamless images.
Upload and brush
Drag and drop your image in any popular format. Use the brush tool to cover the area you wish to edit or replace.
Describe the changes
Type a description of the edits you need. No long stories needed... even short words or a blank prompt will do wonders.
Download or edit more
Refine more, by painting over the same image or reset to experiment with brush sizes or Fill types, which all produce different results.
Frequently Asked Questions
What is Pincel?
Pincel is an advanced online photo editing tool powered by AI technology. With Pincel, users can transform their photos by simply brushing over an area of the image and typing to add any elements they can imagine. It provides an intuitive and creative way to enhance and customize your images like never before.
Is it the same thing as Photoshop Generative Fill?
Exactly! Pincel AI Image Editor is the best online alternative for Adobe Photoshop Generative Fill, allowing you to make creative edits to any photo based on a simple text prompt. The biggest benefit is that Pincel works online on any device.
Is there a free trial available for Pincel AI Editor?
Currently, Pincel offers a powerful and feature-rich experience that requires significant GPU resources. As a result, to access the full capabilities of the tool, users are required to sign up for the pro version, which does not include a free trial at this time.
What is the approximate image generation time with Pincel?
We deploy the latest Stable Diffusion algorithms to process and render images. On average, it takes around 9 seconds for the tool to generate and present a fully edited image after applying your desired transformations and adjustments.
How does Pincel work?
Pincel utilizes cutting-edge AI image editing algorithms to understand the content of your photos and interpret your text inputs. When you brush over an area and type a description, the AI generates realistic modifications based on your instructions, seamlessly integrating the new elements into the image.
What can I add to my photos with Pincel?
With Pincel's AI capabilities, you can add virtually anything to your photos, ranging from objects and creatures to text and special effects. For example, you can add or change clothing, animals, objects, people, add effects, and much more. The possibilities are only limited by your imagination.
Do I need any technical skills to use Pincel?
No, Pincel is designed to be user-friendly and accessible to everyone. You don't need any specialized technical skills or knowledge of photo editing. The interface is intuitive and straightforward, making it easy for both beginners and experienced users to create stunning edited images.
Is Pincel suitable for professional photo editing?
Not quite. While Pincel can produce instant and creative photo effects for visualization, then it is still based on experimental AI technology, which can and will produce errors too.
Is there a limit to the size or resolution of the photos I can edit?
At the current time, the image output for AI modified images with Pincel is 750px (the longest side).
Is my data safe on Pincel?
Yes, we take data privacy and security seriously. All user data and uploaded images are encrypted and stored securely. We do not share or sell user data to third parties. Any image which is not downloaded instantly will also be deleted from our server.
Is Pincel accessible on all devices?
Yes, Pincel is a web-based application and can be accessed from most devices with internet connectivity, including desktops, laptops, tablets, and smartphones. There's no need to install any software, making it convenient and portable.
Can I use Pincel for commercial purposes?
Yes, Pincel offers commercial licenses for users who want to utilize the edited images for commercial purposes.
How can I get support if I encounter issues while using Pincel?
For any technical issues or questions, our dedicated customer support team is available to assist you. You can reach out to them via email or through our chat widget, and we will be happy to help you with any concerns.